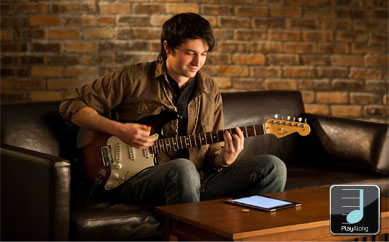 SheetMusicDirect PlayAlong App
SheetMusicDirect PlayAlong is the first iPad app that combines interactive sheet music, pro-quality audio backing tracks and powerful practice/performance tools along with premier songs from the Sheet Music Direct music library. Learn, play, record, share and perform YOUR favorite songs right on your iPad!
The App includes sheet music and backing tracks for songs from the top artists of yesterday and today including Adele, The Beatles, Bruno Mars, Billy Joel, Coldplay, Elton John, Taylor Swift, Eagles, Leonard Cohen, Lynyrd Skynyrd, Christina Perri, Frank Sinatra, Sam Smith, Pink Floyd, Queen and more. Styles range from Pop to Rock, Jazz, Broadway, Classical, Latin, Movies/TV and more. Songs are available for a variety of instruments including piano, voice, guitar, bass, drums, ukulele, accordion, flute, clarinet, alto sax, tenor sax, trumpet, horn, trombone, violin, viola and cello.
The powerful practice/performance tools make it easy and fun for you to learn and play. It's time to sound amazing!